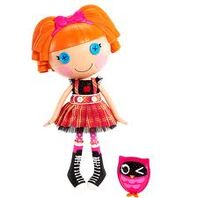 Bea Spells-a-Lot was the eighth Lalaloopsy to be released. Her little sister is
Specs Reads-a-Lot
!
Infomation
Sewn On Date: October 16th (Dictionary Day)
Sewn From: A School Girl's Uniform
Likes: Big words
Dislikes: Wrong answers
Most likely to say: "Repeat after me!"
Personality
When Bea Spells-a-Lot's last stich was sewn, she came to life knowing all the answers- or at least she thinks she does! She's a teacher's pet who always follows the rules. She loves to learn and is very talkative- which is great since she likes to share her knowlege with friends.
What Bea Looks Like
Eye Color:Blue
Hair Color: Orange
Bow Color: Magenta
What she wears: A Black shirt with a apple on it. Over it, she has a white, yellow, and red plad skirt with suspenders. She also has another black layer of skirt under her skirt. She also have polka-dotted leggings and black, high-top shoes.
Her sewn-on pattern on her dress/leggings: White polka dots over a pink background.:
Other things on her dress: Two white buttons on the waist of her dress.
Bea's Pet
Bea has a cute, pink owl! It's winking on one eye.
Bea's Home
Roof: A book covered with crayons with an apple on top.
Wall Color: Yellow, with the alphabet all over it.
Bea's Other Merchandise
Full Size Bea
Bea Mini
Bea Pencil Topper
Bea Character Tin
"Bea Plays in the Rain" Mini
"Bea's School Bus" Mini
Bea Soft Doll
Bea Silly Hair Doll
Bea "Sew Snowy" Mini
RC Car with Bea
Bea Mini with Specs
Bea Costume
 Full Size Bea (Sisters Set) with Specs
Bea Mirco
Guess What!
Bea,Specs and Cloud .E. the only character with blue eyes!
Bea's and Jewel's sewn-on pattern are similar except that Bea has bigger polka dots!
Bea's Sew Snowy edition's costume is a recolour of Mittens Fluff 'N' Stuff 's original outfit!
Gallery