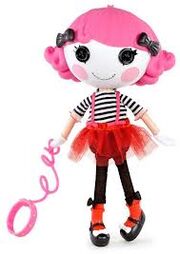 Charlotte Charades was the 32nd Lalaloopsy doll to be released. Her little sister is Sherri Charades! 
Infomation
Sewn on: April 14th (International Moment of Laughter Day)
Sewn from: Mime's gloves
Likes: Listening
Dislikes: Being serious
Most likely to say: "..."
Favorite color: See-through
Personality of Charlotte
Charlotte Charades was sewn from a mime's gloves. She's a real performer who never talks and always stays silent, but always has a lot to say.She communicates to her friends through acting and miming. She loves the colors black and white, but her all round favorite color is see-through!
What Charlotte Looks Like
Hair Color: Hot Pink
Hairbow Color: Black
What Charlotte wears: Chrlotte wears a black and white striped quarter sleeve length shirt with a red tulle skirt and black glitterery leggings with little bows on the ends.
Her sewn-on pattern on her dress: Black and white stripes.
Other things on her shirt: short ruffles on the end of the sleeves.
Shoes: Black Mary janes white bows and red ankle socks.
Charlotte's Pet 
Charlotte has an invisible dog! Although he's invisible, Charlotte puts a pink leash on it.
Charlotte's Home
Roof: Black and white with a french hat on top.
Wall Color: See-through
Charlotte's Other Merchandise
Full Size Charlotte
Mini with RC car
Silly Funhouse Charlotte Mini
Sister Pack
Guess What!
Charlotte is the only doll that doesn't have a real pet.
Although Charlotte was made big,she was not made into an actual mini series.
Gallery