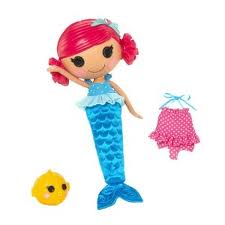 Coral Sea Shells™ was sewn from a swimmer's bathing suit. She's super-imaginative and she loves to pretend she's a real mermaid. Her favorite hobbies are swimming with the fish and eating seaweed salad. She has a pet blowfish.
Sewn on Date: March 22nd (World Water Day)
Infomation
Sewn On:March 22nd (World Water Day)
Sewn From:A Swimmers bathing suit
Likes: 
Dislikes:
Most likely to say:
Personality Of Coral
Coral is super imangenative,especially when it comes to being a Mermaid!She loves swimming with her blowfish and dining out eating Seaweed salad.
What  Looks Like
Eye Color:Black
Hair Color:Pink and Purple
Hairband Color:A blue bow with a shiny pink shell
What she wears:Mermaid Costume:A blue Mermaid tail .Swimsuit:A pink frilly bathing suit with a skirt and white polka dots,with a little blue bow to tie up at the back of her neck.
Her sewn-on pattern on her/his dress/shirt: 
Other things on her dress:None
Shoes:None
Coral's Pet
Coral has a yellow blowfish with black eyes and a pink heart on the rear,It also quirts Water!
Coral's Home
Roof: Sand and Decorations
Wall Color:Sand
Coral's Other Merchandise
Coral Mini
Guess What!
Gallery