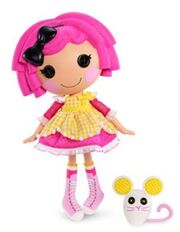 Crumbs Sugar Cookie was the second Lalaloopsy doll to be released. Her little sister is
Sprinkle Spice Cookie
!
Infomation
Sewn On: December 4th (National Cookie Day)
Sewn From: Pieces of a Baking Apron
Likes: Baking contests
Dislikes: Anything sour
Most likely to say: "Pretty please with sprinkles on top?"
Personality of Crumbs
Crumbs Sugar Cookie is a super-sweet girl who loves to bake! She spends ton of time in her kitchen cooking up new creations, like cherry-chocolate cupcakes and strawberry sugar cookies. She loves having tea parties so she can invite her friends over for tasty treats.
What Crumbs Looks Like
Eye Color:Black
Hair Color: Pink
Handband Color: Black
What she wears: A yellow dress with pink under it with white ruffles. She also has pink arms sleeves.  
Her sewn-on pattern on her dress: Yellow and white plad stripes 
Other things on her dress: White ruffles at the ends of her collar.
Shoes: Crumbs has pink high-top boots with white shoelaces on them. If you look closely, you can see that she has white socks with yellow lacings.
Crumbs' Pet
Crumbs has a cute, white mouse!
Crumbs' Home
Roof: Rainbow Colored Cookies/Mints
Wall Color: Brown Cookies
Crumbs Other Merchandise
Full Size Crumbs
"Crumbs' Tea Party" Mini
Crumbs Mini
"Crumbs' Tea Time" Mini
"Crumbs Loves Chocolate" Mini
"Crumbs' Cookie Party" Mini
Crumbs Pencil Topper
Crumbs Soft Doll
Crumbs Mirco
Crumbs Silly Hair
Guess What!
In Italy, Crumbs' name was changed into Cookies!
In the silly hair Crumbs' she doesn't have her black bow! 
Gallery