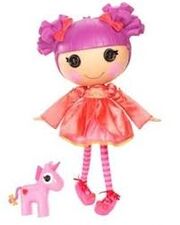 Lady Stillwaiting was the 20th Lalaloopsy to be released along with
Sir Battlescarred
.
Information
Sewn From: A fair maiden's dress
Sewn On: Feburary 26th (Tell a Fairytale Day)
Likes: Tea Parties
Dislikes: Messy Rooms
Most likely to say: "A red rose for me?"
Personality of Lady
Lady Stillwaiting is simply lovely and sew polite. She also a hopeless romantic who adores reading and writing poetry. She can often be seen waving from her balcony-even if no one is there to wave back!
What Lady Looks Like
Hair Color: Purple
Hairbow Color: Red
What she wears: Lady wears a pink colored dress with long sleeves and yellow lace at the bottom.
Her sewn-on pattern on her dress: Light pink with dark pink stripes.
Other things on her dress: Pink bows at the sleeves of her shirt.
Shoes: Slip on shoes that look like ballet slippers.
Lady's Pet
Lady has a pet unicorn which has a pink body and a heart on it's behind. It's horn, mane, and tail are dark pink and her tail has a yellow bow on it.
Lady's Home
Roof: 3 cones, one with gold buttons and a flag, one with peach and pink stripes, and one with just pink.
Wall Color: Peach and yellow with some vines growing on it.
Lady's Other Merchandise
Full Size Lady
Lady Mini
"Lady Writes a Poem" Mini
Guess What!
In "Lady Writes a Poem", her dress is a recolor of Crumbs'.
Gallery