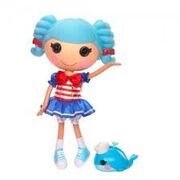 Marnia Anchors was the fifiteenth Lalaloopsy doll to be released. Her little sister is
Matey Anchors
!
Infomation
Sewn On:June 8th (World Ocean Day)
Sewn From:A sailor's uniform
Likes: Lighthouses
Dislikes:Untying knots
Most likely to say: "Anchors away!"
Personality Of Marina
Marnia Anchors lives in a lighthouse on the coast of Lalaloopsy Land, and she always keeps her home shipshape. In fact, she loves organizing so much that she sometimes goes a bit overboard. Even though Marnia loves the water, she doesn't know how to swim. That's why she's always wearing floaties or a lifesaver.
What Marina Looks Like
Hair Color:Light Blue
Hairbow Color:Red
What she wears: Marina wears a little white and red striped dress with a big red bow at the top and four gold buttons going downwards along her belly and chest.Her skirt and sleves are blue and she also wears white panties.
Her sewn-on pattern on her dress: Red stripes
Other things on her dress:None
Shoes:Blue Tennis shoes
Marina's Pet
Marina's pert is a blue whale with a lighter blue belly,She wears a white sailors cap.
Marina's Home
Roof: Light brown with a llighthouse next to it and a fishing net draped around it.
Wall Color: Red and white stripes on a pier,she lives in a light house.
Marina's Other Merchandise
Full Size Marina</li>
Marina Mini</li>
"Marina's Beach Day" Mini </li>
"

Marina's Sea Adventure" Mini

</li>
"Bubble Fun" Mini</li>
Marina Silly Hair</li>
Marina Soft Doll</li>
Marina Silly Funhouse Mini</li>
Marnia Mirco</li>
Guess What!
She is the only lalaloopsy doll to have a little brother!</li>
Her whale has different hats in every mini, like Peanut Big Top's elephant.</li>
Gallery