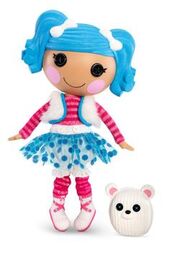 Mittens Fluff 'N' Stuff was the third Lalaloopsy doll to be released. Her little sister is
Bundles Snuggle Stuff
!
Infomation
Sewn On: December 21st (First day of winter)
Sewn From: Pieces of an Eskimo's Scarf
Likes: Warm clothes
Dislikes: Melting icicles
Most likely to say: "Want to go sledding?"
Personality
For Mittens Fluff 'N' Stuff there's nothing better than a snow day filled with sledding, ice skating, and a great big snowball fight with her friends. Afterward, she loves to snuggle up with her pet polar bear and drink hot coco by a cozy fire.
What Mittens Looks Like
Eye Color:Black
Hair Color: Blue
Bow Color: White
What she wears: A pink and magenta sweater with a white fluffy jacket and a white belt with a see-through blue, polka-dotted skirt. She also white leggings with pink and magenta legwarmers.
Her sewn-on pattern on her dress: Blue polka dots 
Other things on her dress: White buttons on her belt
Shoes: Mittens has white boots with pink bottoms. She also has pink boot-laces.
Mittens' Pet
Mittens has a cute, white polar bear!
Mittens' Home
Roof:  Cookies with a Hot Coco Cup on Top
Wall Color: White Yarn
Mittens' Other Merchandise
Full Size Mittens
Mittens Mini
"Mittens' Sleepover" Mini
"Mittens Bundles Up" Mini
Mittens Pencil Topper
Mittens Soft Doll
Mittens Silly Hair
Mittens Mirco
Mittens "Sew Snowy" Mini
Mittens Loopy Hair
Guess What!
Mittens has the same pet as Ivory Ice Crystals!
 She possesses snow magic!
In her mini, her skirt is miscolored!
In her Sew Snowy mini,Her costume is a recolour of Swirly Figure Eight 's original outfit!
Gallery