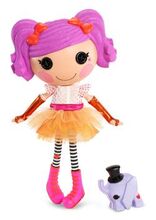 Peanut Big Top was the fourth Lalaloopsy doll to be released. Her little sister is
Squirt Lil' Top
!
Infomation
Sewn On: April 1st (April Fool's Day)
Sewn From: Bits of a Brightly-Colored Clown Costume
Likes: Loud laughs
Dislikes: Using her "inside voice"
Most likely to say: "Ta-da!"
Personality
Peanut Big Top has a special talent for making people laugh. She's never afraid to show her silly side, and she's always has a trick up her sleeve. From dressing in crazy costumes to standing on her head, she'll do anything to turn a frown upside down!
What Peanut Looks Like
Eye Color: Black
Hair Color: Purple
Bow Color: Red
What she wears:
Her sewn-on pattern on her dress: Red Polka Dots:
Other things on her dress: A red heart on her leggings
Peanut's Pet
Peanut has a cute, purple elephant with a little black top hat! Elephant is said to have loads of different hats,and on each mini he has a different one! If you look closely, there's a little heart on his rear leg.
Peanut's Home
Roof: Orange and red ribbons with a popcorn and flag on top
Wall Color: Red and White Stripes
Peanut's Other Merchandise
Full Size Peanut
Peanut Mini
"Peanut's New Tricks "Mini
"Peanut's Elephant Act" Mini
"Peanut Sew Sleepy" Mini
Peanut Silly Funhouse Mini
"Peanut's Spinning Ferris Wheel" Mini
Peanut Pencil Topper
Peanut Soft Doll
Peanut Silly Hair
Peanut Micro
Peanut Character Tin
Silly Singers Peanut Big Top
Super Silly Party Peanut Big Top- Large Doll and Mini
Princess Parade Peanut Mini
Peanut Sister Pack
Peanut Full Size Doll with Mini
Guess What!
Peanut looks like Berry Jars 'N' Jam!
Her Dress Looks Like Misty's!
Her tights are almost the same as Alice's!
Gallery