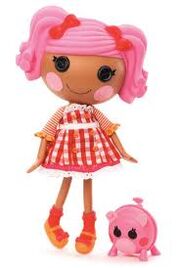 Pepper Pots 'N' Pans was the seventeenth doll to be released!
Information
Sewn From: A chef's oven mitt
Sewn On: June 17 (Eat Your Vegetables Day)
Likes: Broccoli
Dislikes: Doing dishes
Most likely to say: "Cheese, please!"
Personality Of Pepper
Pepper Pots 'N' Pans is the best chef in all of Lalaloopsy Land. No matter what is in Pepper's refrigerator, she can still create a gourmet meal. Her specialties are cheese soup and gourmet sandwiches, but she also makes great potato pie!
What Pepper Looks Like
Hair Color: Pink
Hairbow Color: Red
What she wears: Pepper wears a red and white checkered dress with a white band around the middle.She has 6 orange buttons across her belly and chest with white lace at the top and bottom.Her sleeves are red and white striped with orange cuffs on the end.
Her sewn-on pattern on her dress: Red checkerboard.
Other things on her dress: White lace.
Shoes:Orange Mary Janes with a Red bow and Red socks
Pepper's Pet
Pepper's pet is a is a pink piggy with a lighter pink pig nose and black eyes.Her ears are curled and she has Red cheeks.
Pepper's Home
Roof: Orange Circular Tiles.
Wall Color: Yellow with windows,a shade at the front and a Menu chalkboard
Pepper's Other Merchandise
Full Size Pepper
"Pepper's Midnight Snack" Mini
"Pepper Cooks Up Fun" Mini
Pepper Pencil Topper
Guess What!
On the poster that she features on with the 2nd-3rd generation dolls, her hair is Dark Pink with orange bows like Berry Jars 'n' Jam.</li>==Gallery==