Pickles B.L.T was the 41st Lalaloopsy doll to be released
Information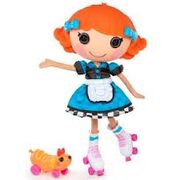 Sewn On: May 21
Sewn From: A waitress's unifrom
Likes: Carrying plates
Dislikes: Losing her balance
Most likely to say: "What can I do for you, sugar?"
Personality Of Pickles
Pickles BLT is a waitress who is very quick on her feet. She loves to chew gum, address everyone as "Sugar," and carry many plates at once...though she often drops them.
What Pickles looks like
Eye Color: Black
Hair Color: Neon orange
Hairbow Color: Candy blue
What she wears: Pickles wears a waitress uniform that is black on top with a blue collar and two blue buttons. Her skirt is blue with a checkerboard petticoat under and an apron.
Her sewn-on pattern on her dress: Checkerboard.
Other things on her dress:
Shoes: Pickles wears roller skates.
Pickles Pet
Pickles' pet is literally a hot dog! It appears to have mustard on it.
Pickles' Home
Roof: French fries
Wall Color: Black.
Guess What!
Pickles' home is actually a diner!
Gallery