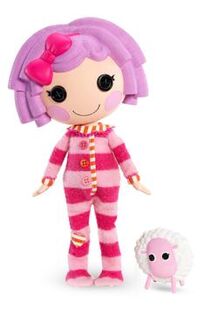 Pillow Featherbed was the first Lalaloopsy doll to be released. Her little sister is Blanket Featherbed!
Infomation
Sewn On: January 3rd (Festival of Sleep Day)
Sewn From: Pieces of a Baby's Blankie
Likes: Milk and Cookies
Dislikes: Alarm Clocks
Most likely to say: "Zzzzz."
Personality of Pillow
Pillow Featherbed thinks that anytime is the right time for a nap. That's why she's always wearing her jammies! She's a bit of a night owl and she can be found up late reading a book or looking at the stars with Dot. She also throws great sleepover parties and loves a good pillow fight, just as long as she can get some rest after.
What Pillow Looks Like
Pillow has black eyes with purple colored, straight hair, and can usually be found in pajamas. She has light purple colored cheeks and wears a magenta colored head band with a magenta colored bow.
Her footie-pajama is pink and magenta in color and has a orange and white collar and zipper. There are three buttons at the right side of the zipper, one magenta, orange, and pink. If you look at her leg, you can see a orange and white heart on her pajamas. This orange and white color is also her sewn on pattern.
Pillow wears no visible shoes, as she wears footie-pajamas.
Pillow's Pet
Pillow has a cute, white sheep!
Pillow's Home
All around Pillow's home, it's always night! A cookie trail leads her to her house, and it seems to be surrounded with pillows, stuffed animals, and some milk. The door is yellow with a pink moon and stitched on stars. Above the door, a frame is attached saying, "Once upon a time" and "Ever after". Her windows seem to be books, and her outside wall is a pink blanket with stitched on hearts. Her roof is a bunch of cookies and her chimney is an alarm clock.
Pillow's Other Merchandise
Full Size Pillow
"Pillow's Sleepover Party" Mini
Pillow Mini
"Pillow's Story Time" Mini
Pillow Soft Doll
Pillow Pencil Topper
Pillow Mirco
Pillow Costume
Guess What!
She was the 1st lalaloopsy doll to be made!
Her roof is made out of over 75 chocolate chip cookies!
She dosen't sleep in Nintendo DS!
Her mini is the one to have 'bendy' legs!                                                                                                                  
Gallery