Rosy Bumps 'N' Bruises was the 25th Lalaloopsy to be released. Her little sister is Stumbles Bumps 'N' Bruises.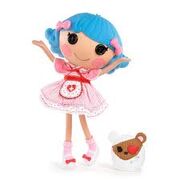 Information
Sewn On: May 12th (International Nurses Day)
Sewn From: A Nurse's Uniform
Likes: Orange Juice
Dislikes: Empty first aid kits
Most likely to say: "I've got a bandage for that!"
Personality of Rosy
Rosy Bumps 'N' Bruises as a solution for any problem, and it usually involves lots and lots of bandages! She fixes boo-boos with tender loving care, and always puts safety first.
What Rosy Looks Like
Eye Color: Black
Hair Color: Blue
Bow Color: Pink
What she wears: Rosy wears a pink nurses outfit with a pink, polka dotted cape lined with lace. Her dress has two layers
Her sewn on pattern on her dress: Pink and white stripes
Other things on her dress: A patched heart on her apron.
Shoes: White buckle shoes with red bows on top
Rosy's Pet
Rosy has a brown bear. Her eye is covered with a heart and she is wrapped around in bandages
Rosy's Home
Roof: Orange circles with a ice bag as a chimney
Wall Color: Red with bandages wrapped around it
Rosy's Other Merchandise
Full Size Rosy
Rosy Mini
Rosy Sister Pack Mini
Rosy Sister Pack
Rosy Soft Doll
Guess What!
She is one of the main characters in the series!