Sahara Mirage was the 14th Lalaloopsy doll to be released! Her little sister is
Pita Mirage
!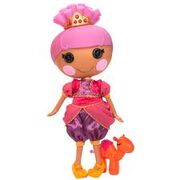 Information
Sewn On: Janurary 13th (Make Your Dreams Come True Day)
Sewn From: A genie's veil
Likes: Making wishes come true
Dislikes: The dark
Most likely to say: "Dreamy!"
Personality Of Sahara
Just like her name says, you never know where Sahara Mirage will pop up next. Sahara is afraid of the dark, but she's got a sparkling personality that can charm just about anyone.
What Sahara Looks Like
Hair Color: Purple
Crown Color: Gold with pink gems
What she wears: Sahara wears a shiny lilac dress with dark pink, shiny, puff sleves with gold trimming. She has big puffed purple pants with a faint pink over skirt.
Her sewn-on pattern on her dress: 
Other things on her dress: Gold trimming over most of her dress. 
Shoes:Orange genie shoes
Sahara's Pet
Sahara's pet is a cute, orange camel! On it's hump it has a pink blanket over it. It's eyes are closed and have long eyelashes.
Sahara's Home
Roof: Persian palace with a purple dome roof.
Wall Color: Sparkly lalic
Sahara's Other Merchandise
Full Size Sahara</li>
Sahara Mini</li>
"Sahara's Desert Dream" Mini</li>
Silly Funhouse Sahara Mini</li>
Sahara Pencil Topper</li>
Sahara Soft Doll </li>
Gue​ss What!
On her poster, Sahara has a design under her eye, but on the doll she doesn't!</li>
Sahara looks like Swirly Figure Eight!</li>
Gallery