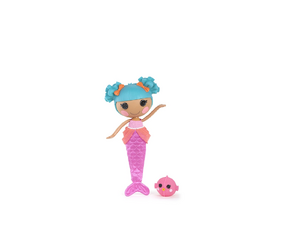 Sand E. Starfish is the second mermaid Lalaloopsy!
Infomation
Sewn On:June 24th
Sewn From:A mermaids hair ribbon
Likes:
Dislikes:
Most likely to say:
Personality Of Sand E.
Sand E. Starfish was once a rag doll who magically came to life when her very last stich was sewn.She's super-shy and she loves to hide out.Her favorite things are listening to the ocean,collecting shells and writing sea songs though they never seem to rhyme...
What Sand E. Looks Like
Hair Color:Blue(out of water) Purple (in cold water)
Hairbow Color:Orange
What she wears: Beach:Sand E. Wears a White one-piece Bathing suit,with a curved in  top at the chest.Above the waistline,it has Orange stripes,and a little pink bow on the top of the waistline on the front right.On the bottom half there is a overlaping parted skirt,with Orange polka dots.The little panties part is orange striped too.It is tied around her neck with 2 pink ribbons that tie at the back.
Water:Sand E. wears a Purpleish-pinkish mermaid tail with sewn on scales.At her waistline,there is a Peachy-pinky glittery skirtthat is parted,then just above that is a little piece of white lace that goes around her waist.The top is Pink with faint strips in the same color going across it.It is tied up with two pink ribbons that go around her neck and tie up at the back.
Her sewn on pattern: Purple scales!
Other things on her clothes,Water:On the end of the tail on the fin,There are little sewn on curls!
Shoes:None!
Sand E.'s Pet
Sand E.'s pet is the a little ballet-pink blowfish,with black button eyes.Her mouth is yellow.On the rear left,there is a little Dark pink heart!Also,She has star-shaped light pink cheeks.
Sand E.'s Home
Roof: ice cream cones with flags on top.
Wall Color: Sand with multiple decorations
Sand E.'s Other Merchandise
Sand E. Starfish Full size doll with blue hair-to-blue with purple tattos version doll.
Guess What!
Her pet is a recolor of Corals!
Her clothes are diffrent from the poster in several differrent ways!
1.Her swim suit shows sleves on the top and frills on the skirt!
2.Her Mermaid costume has sequins on the top and frills across the top!
She has 2 full Size dolls! in different versions! One has hair that changes color, and another has changing designs!
Gallery