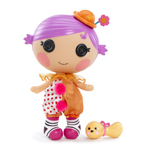 Squirt Lil' Top was made from a pieces of a clown's costume on January 19th (National Popcorn Day). She's a performer and a bit of a showoff. Her best tricks are summersaults and juggling...but just one thing at a time. She has a pet peanut.
Sewn on Date: January 19th (National Popcorn Day)
Infomation
Sewn On:Janurary 19th (National Popcorn Day)
Sewn From: Pieces of a Clown's costume
Likes: 
Dislikes:
Most likely to say:
Personality of Squirt
Squirt Lil' top is a right Daredevil! She's a performer, and a bit of a showoff.Her most confident,favourite and best tricks are sommersaults and juggling,although 1 thing at a time is enough............................................
What Squirt Looks Like
Hair Color:Purple
Hairband Color:None
What she wears: Squirt wears a daytime onesy with orange frills at the top the left side is white with Pink spots whilst the right side is orange.She has two Pink pom poms on the middle of the onesy!She also wears a Orange hat....With a little flower too!
Her sewn-on pattern on her dress: 
Other things on her dress:None
Shoes:Black and white stripey socks with Pink toes and heels
Squirt's Pet
Squirt's pet is a little Peanut with a little black nose and light Pink cheeks!She also has a little piece of Pink string around her middle.
Squirt's Home
Squirt lives with her big sister Peanut Big Top!
Roof: 
Wall Color: 
Squirt's Other Merchandise
Peanut and Squirt large sister pack
Squirt and Peanut mini sisters pack 
Guess What!
Squirt's shoes are actually plastic socks!
Gallery