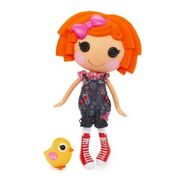 Sunny Side Up was the 11th Lalaloopsy doll to be released. She has a twin sister named Berry Jars 'N' Jam !
Infomation
Sewn On: October 12th (Old farmers day)
Sewn From: A farmers shirt and overalls
Likes: Hayrides
Dislikes: Late nights
Most likely to say: "Rise and Shine!"
Personality Of Sunny
Sunny Side Up rises at dawn every morning to take care of the animals on her farm. She milks the cows, gathers eggs, and rakes hay. All that hard work is usually followed by a big blueberry pancake breakfast with her twin sister, Berry Jars 'N' Jam.
What Sunny Looks Like
Hair Color: Orange
Hairband Color: Pink
What she wears: Sunny wears a white and pink plad shirt with blue jean overalls over it. On her overalls, she has white pattern that are shaped like flowers and ovals
Her sewn-on pattern on her overalls:  (What type of design is that?)
Other things on her overalls: Red buttons near the center of the overalls and two hearts down at the very bottom
Shoes: Red high-top boots
Sunny's Pet
Sunny's pet is a yellow chick! If you look closely on her wing, she has a pink pattern with white flowers and dots.
Sunny's Home
Roof: Hay with a chicken wind measurer on top
Wall Color: Jean-like blue
Sunny's Other Merchandise
Sunny side up large doll
Mini Sunny
Mini camping with Sunny playset
Lalaloopsy large doll playset-Twins! ft.Sunny side up and Berry Jars 'N' Jam
Guess What!
Out of the twins,Sunny is the one who try's hard,works best,and is the most tomboy like.
Although Sunny and Berry are twins, they look nothing alike!
Although Sunny and Berry live on the same farm, they live in different houses.
Gallery