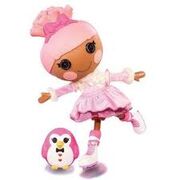 Swirly Figure Eight was the 22nd Lalaloopsy doll to be released. Her little sister is Twirly Figure Eight!
Information
Sewn On: January 20th (World Penguin Day)
Sewn From: An Ice Skater's Costume
Likes: Ice
Dislikes: Falling down
Most Likely to Say: "Watch me spin!"
Personality of Swirly
Swirly Figure Eight is an ice-skating sensation. She's a true champion, but she didn't become one overnight. She thinks practice makes perfect-even if it does make her dizzy.
What Swirly Looks Like
Eye Color: Black
Hair Color: Light Pink
Bow Color: Hot Pink
What she wears: Swirly wears a pink, sparkly skaters outfit with white fur on the sleeves of her dress and the collar.
Her sewn-on pattern on her dress: Lavender background with purple polka dots.
Other things on her dress: She has a white string with some fur coming down from her collar
Shoes: She has ice skates for her shoes.
Swirly's Pet
Swirly has a cute, pink penguin. She wears a bow and have two pinks hearts on her belly, so it looks like the penguin is wearing a tuxedo!
Swirly's Home
Roof: Shiny whiteish-blue with icicles hanging from it
Wall Color: Sparkly blue tile
Swirly's Other Merchandise
Full Size Swirly
Swirly Mini
Swirly Pencil Topper
Guess What!
She and Pickles B.L.T are the only Lalaloopsies to wear roller skates and ice skates!
There is always snow around her hose.
Gallery